Massively Multiplayer Online Game
Enter the world of PLEX where building is half the fun. Choose between online and offline gameplay. In story mode pick one of six characters and solve your way through a multitude of quests and puzzles. In build mode customize your own avatar and chat with your friends as you construct and terraform your way to greatness.
Exploration & Adventure Await
Each area in PLEX is full of wonders waiting to be discovered. Make bridges, destroy walls, build towers and houses to fulfill your quests and beat the game. Defeat monsters to unlock keys and find treasure you can use to buy items which help you on your journey. Every character has it's own storyline and set of puzzles.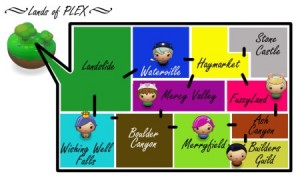 Meet The Characters

Are you daring like Tanya, the captain of a pirate ship? Or maybe you'd prefer being the princess of PLEX like Raven whose awaiting her turn on the throne. Perhaps you're more the shy type like Lisa or so strange you don't fit in like Bella. Alex wants to follow in his father's footsteps and Kitty longs for a friend. Which one will you decide to play as first?
System Requirements
PLEX works on Mac, Windows (95 or higher) and Linux. A sound card and graphics card are necessary. Online play requires an internet connection.
Does It Cost Anything?
No, PLEX is free to download and play.
Download It Today!
PLEX is still in development.